OOhOOh I got a parcel today!!!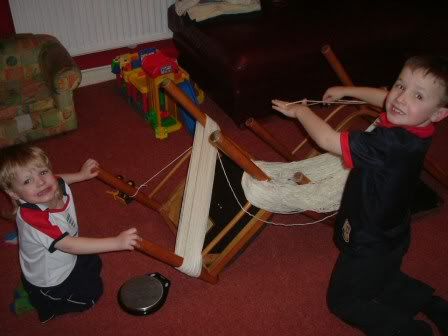 I seem to be having a bit of a blogging frenzy at the moment!!! Maybe its because people are reading it more, and leaving me lovely messages :) Thanks to all who have taken the time to read the insane ramblings of a frantic mother and sometime amateur knitter...he he he
Well, as you can see, I had some help splitting a 600g hank of wool into 100g hanks this afternoon :) Who needs newfangled machines when you have two upturned chairs and child labour? Its is lovely aran weight wool...bought of ebay from
Glenshee Woolens
I have wound about 350g off in 3 hanks, and retrieved the baby bath out of the loft (I knew it would come in useful again)....all ready to handpaint with KoolAid on Wednesday ;) I am quite excited about it, and have promised to let Daniel help me...although me being me...I'll end up stressing about mess so much he'll not get a chance....*sigh* Lets hope its a nice day, so we can take it out in the garden and do it.
Had a few friends over for coffee this morning, and emptied my yarn cuboard so they could see my ever growing stash...thing is, when I repacked the cuboard I made some more room! I guess that'll be for the wool I have coming that I bought last night from eBay.
I have promised my self
NO MORE YARN PURCHASING
........but guess what.....*sigh* Yes you guessed it...I went for a walk inthe village this afternoon with my sleepy boy in the Ergo, and *popped* nonchalantly (yeah right...there was a basket of wool in the window and I spied Debbie Bliss, I nearly broke my neck I went in there so fast!) into my local charity shop... Colourway 207 of Debbie Bliss Baby Cashmerino....5 x 50g balls! £1.50 each, which I thought was quite good!
So I have decided, I am going to unravel my current Shedir...sob... as I chose the wrong yarn to begin with anyway, you can't see the cables. I am going to re-knit it in the Debbie Bliss bargain :)
Right...back to it then....I have to post on
Team GB
before I can start knitting again....
ETA (at 1.15am zzZZZ) Unravelling the current Shedir and re-knitting WAS the right decision!!! Took me two nights to reach row 24 with the other yarn….and I'm up to row 20 already with the DB…Plus, because its a slightly glossy/shiny yarn….the cables show up really well!!!
Woohoo...now sleep......